LEYLAND is set to welcome the world's first-ever Truck Trail.
Snaking from the town's railway station to the award-winning Worden Park – 13 6ft trucks, each with their own character and personality, will go on show from April.
Taking inspiration from the success of the Superlambanana scheme in Liverpool and celebrating more than 100 years of truck manufacturing in the town, the first of the iconic features has now been officially unveiled.
Manufactured from a welded steel frame, they're all designed around a vehicle produced by Leyland Trucks since its inception in 1896, and boast names including 'Super Hippo'. 'The Comet' and 'Military Martian.'
And, fittingly, Leyland Trucks and DAF Trucks were the first to snap up not one, but two of the landmarks which are set to draw in crowds throughout the six months they are in position.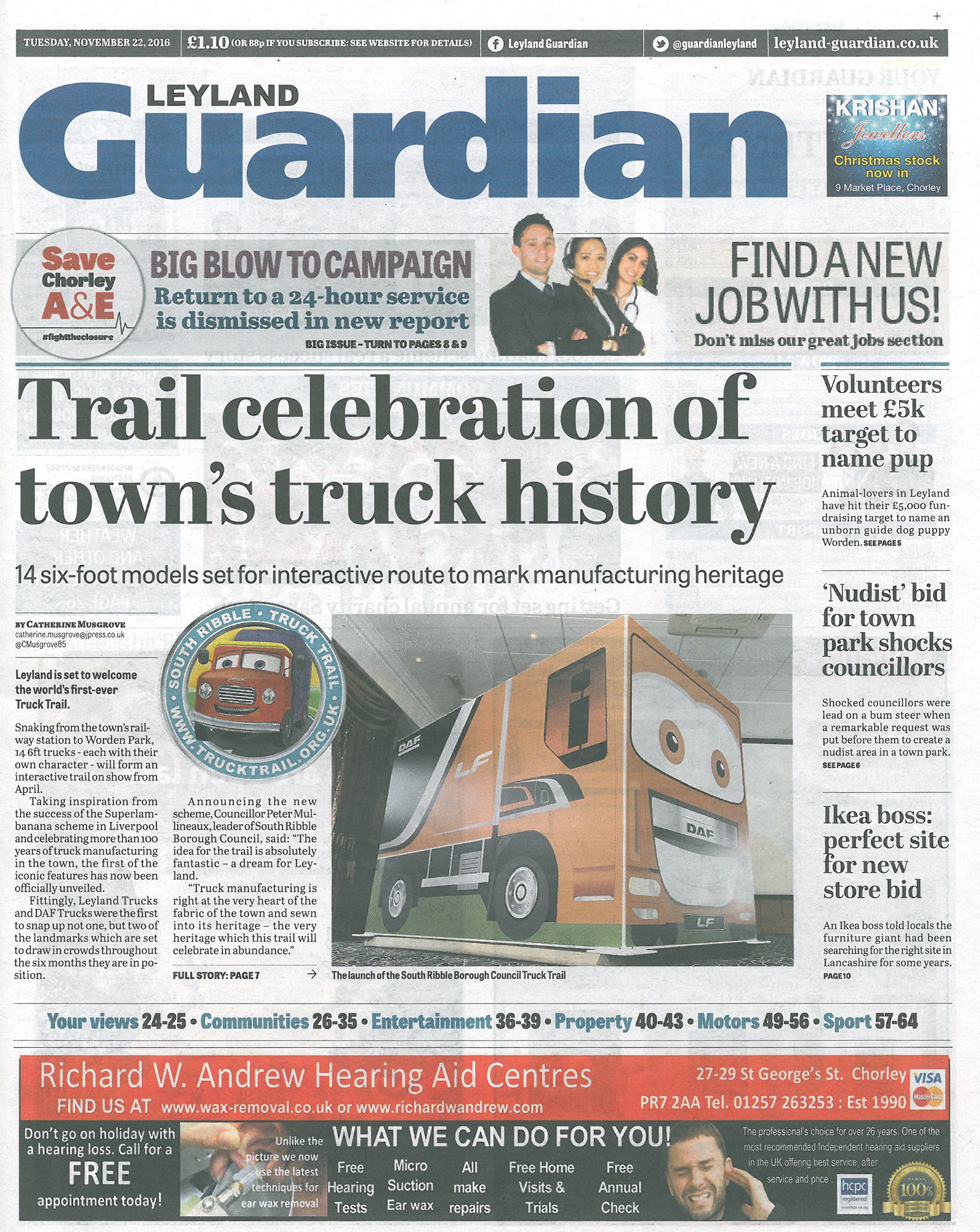 Announcing the new scheme, Councillor Peter Mullineaux, Leader of South Ribble Borough Council, said: "The idea for the trail is absolutely fantastic – a dream for Leyland. Truck manufacturing is right at the very heart of the fabric of the town and sewn into its heritage – the very heritage which this trail will celebrate in abundance. We're hoping to draw crowds from far and wide – offering a boost to the town and supporting our local businesses. We also hope to inspire a future generation with a full educational package which will run alongside the display. The designs will capture the imagination of children – especially the big kids amongst us! As part of the STEM (science, technology, engineering and mathematics) project, schoolchildren will be given the chance to design the 14th vehicle – based on the idea of 'truck of the future.'
It will be unveiled in front of the crowds at the Leyland Festival in June and will be given to the school to keep after the trail finishes in September.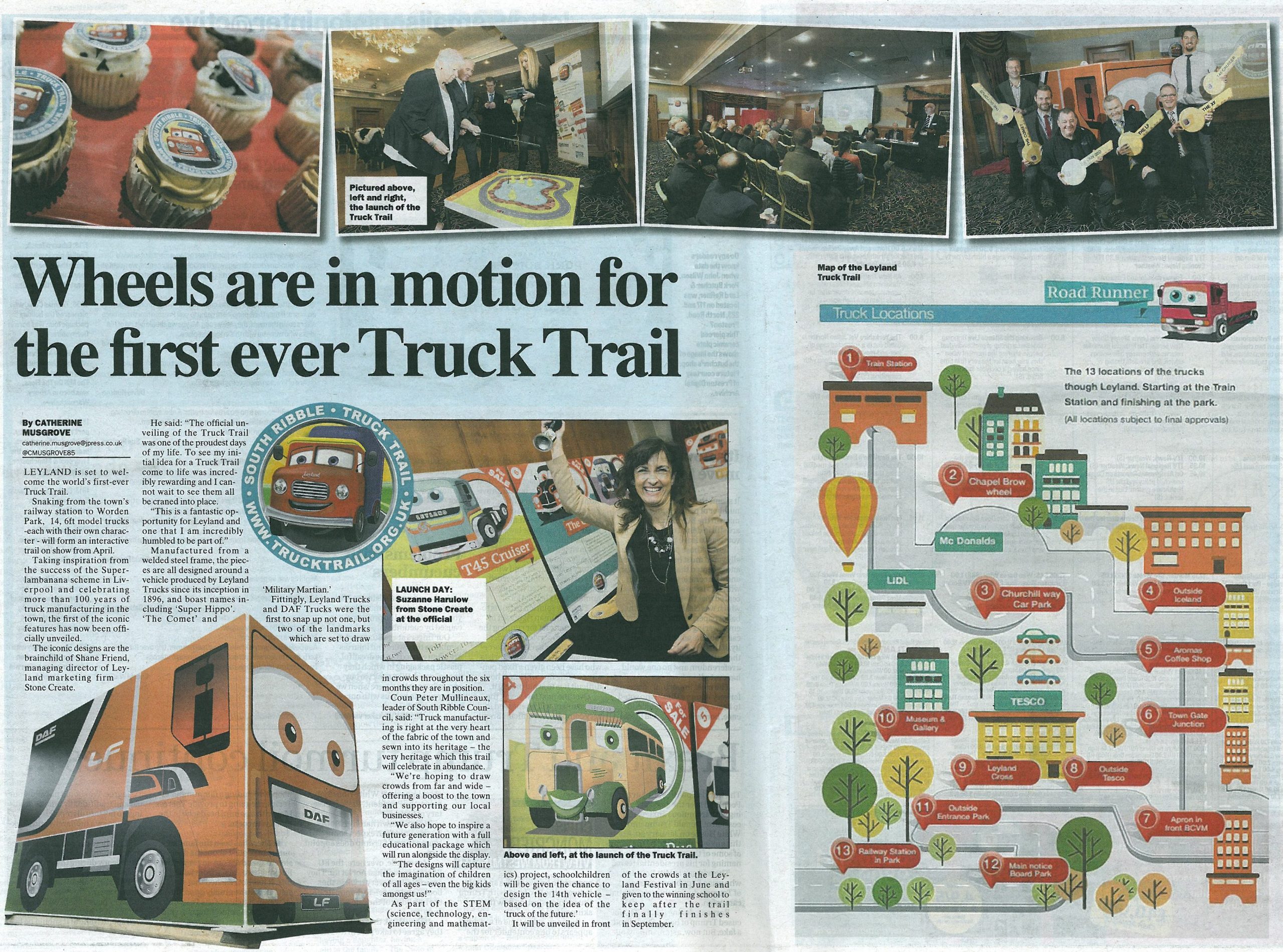 Helen Heggie, Director of STEMfirst, said: "The UK STEM skills shortage means it is imperative that employers and education work together to inspire the next generation, helping young people see STEM as a job for them and developing the key skills that employers will require from their future workforce.
"Truck Trail is a perfect vehicle for schools, employers, young people and their carers to get involved. This is an incredible opportunity for local employers to inform, inspire and educate the next generation about the career opportunities, skills requirements and businesses on their doorsteps.
The iconic designs are the brainchild of Shane Friend, Managing Director of Leyland marketing firm Stone Create.
He said: "The official unveiling of the Truck Trail was one of the proudest days of my life. To see my initial idea for a Truck Trail come to life was incredibly rewarding and I cannot wait to see them all be craned into place. This is a fantastic opportunity for Leyland and one that I am incredibly humbled to be part of."
The scheme is self-funding with each truck being sponsored by a local business which will get their brand advertised within the design. 11 of the 13 have already been reserved. Other companies to sponsor trucks include BAXI, Wrennalls, Hallmark Hotel Leyland, Tranzparts, J & J Ashcrofts and Runshaw College, C & W Berry, Leyland Forum.
Ivan Shearer, HR Director at Leyland Trucks, said: "Leyland Trucks and DAF Trucks UK are proud to sponsor this exciting local community project.
"It is particularly pleasing to work with South Ribble Borough Council and STEMFirst to encourage our local education sector to develop their vision of what a future truck might look like, and in doing so we will help inspire the next generation of manufacturers and engineers."
We are sorry that this post was not useful for you!
Let us improve this post!
Tell us how we can improve this post?