Consumer Confidence Consequences for Businesses
Brexit.
Most can't wait for it all to be over – others wish it hadn't started in the first place.
It's causing endless headlines and rightly so, as there are implications for the whole of the UK.
This article discusses what the latest consumer confidence reports suggest for small businesses.
The most recent report shows that consumer confidence has fallen dramatically.
Let's have a look…
---
What is Consumer Confidence?
Consumer confidence is measured by the Consumer Confidence Index (CCI).
It's defined as:
'a statistical measure of consumers' feelings about current and future economic conditions, used as an indicator of the overall state of the economy.'
Results are gathered and conclusions drawn from household surveys of consumers' opinions on current conditions and future expectations.
The survey is based on the two parts:
40% = opinions on current conditions
60% = expectations of future conditions
Consumer confidence are published monthly.
The basic notions are that:
if confidence is high, consumers are spending
if confidence is low, consumers are being more conservative with their money
The latter would suggest that the economy is in trouble, whereas if people are spending more freely, it is because they are comfortable with the stability of their incomes.
---
YOU MAY LIKE: Google My Business: Grow Your Business
---
Consumer confidence summer 2019
Consumer confidence has been surprisingly steady over the summer months.
Only a month ago it was reported that UK consumer confidence had improved in July – suggested people were optimistic about what's going to happen.
Low unemployment rates and wage growth were contributing to this feeling, all despite the Brexit cloud looming ever closer.
GfK, the market research firm responsible for these reports, warned that this could change the closer we get to 31st October.
Joe Staton (client strategy director at GfK) when discussing the July results stated:
"The coming months to the 31st October departure date will test the strength of this confidence."
It looks like that resolve is already being strained – just one month later.
---
The Latest Results
As predicted, consumer confidence has fallen in August with Brexit just round the corner.
With any major public issue, predictions are irresponsibly thrown around.
This of course, ensues lots of speculation about what could happen.
One example is that some estimates have suggested that up to 100,000 jobs may be lost as a result of a no-deal exit from the EU. This is thought to be part of the reason we've seen a fall in consumer confidence.
On top of that, no one is really sure what is going to happen with Brexit anyway. And confusion is often coupled with caution.
The table below shows the results of the August survey.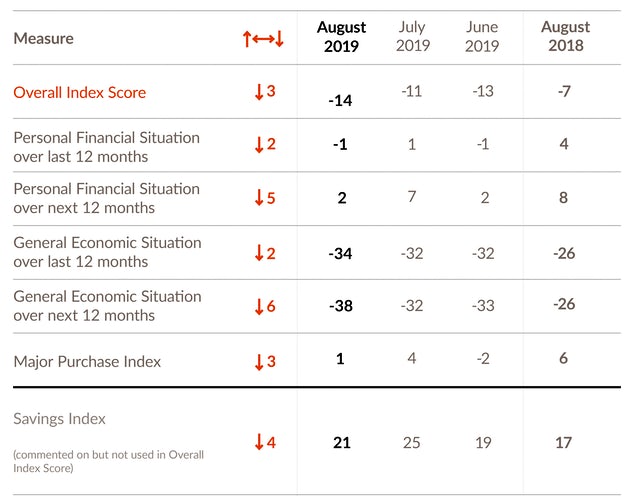 ---
RELATED: 3 Vital Business Lessons from Nike's Founder
---
What does low consumer confidence mean for small businesses?
Should a 'no deal' Brexit be enforced, there could be severe repercussions for small businesses.
In the wake of a 'no deal' possibility, people are preparing for a worse-case scenario.
UK residents are therefore likely to be much more conservative with their spending – slowing it right now.
Naturally, people are more concerned with continuing future mortgage payments than they are with installing a new kitchen or buying that new car that isn't an absolute necessity.
Whether a 'no deal' Brexit would cause a recession is up for debate. But many strongly believe that it would.
This is where it may begin to hurt small businesses.
Some will feel the effects of a recession more than others, but it'll likely take it's toll on everyone in some way.
---
Don't Stop Marketing
In times of low consumer confidence, people are spending less money and so businesses begin to fret.
Owners cut back and try to be as cautious as possible with their finances.
This often includes cutting back their marketing budget and they spend less money on acquiring new customers and clients.
No matter the economic climate, never stop marketing your business.
Of course, looking after your current customer base is vital but by cutting back on your marketing you massively reduce the chances of pulling new business in. And that's no good.
The more new business you attract, the better off you'll be.
---
3 Ways To Market A Business During  A Recession
These are some things to remember during the onset of a recession.
Don't cut back marketing and advertising spends
Cutting back on your marketing will serve to reduce your income and stopping advertising reduces the amount of new customers you're going to get.
A recession is both a threat and an opportunity.
Many business owners' first thoughts are to cut back on marketing. It seems like the easiest way to conserve a business' budget.
But if you're cutting back and your competitors take the opposite approach, then prepare to struggle.
The opposite of that however is that you continue to advertise and market and your competitors don't.
The ROI from advertising has often increased in recessions. You have the chance to deliver a major blow to your competitors.
Use emotion
Focus on creating emotional bonds with your customers.
This is an important element of branding and is key in potentially difficult times.
Emotional engagement is key and the goal here.
Hone in on your company values and include them in everything you do.
Be personable and show your personality. Use humor.
Creating emotional connections is key to creating a strong customer base.
---
RELATED: Share The Love: Use Emotion To Send Your Content Viral
---
Push less costly marketing strategies
Make the most out of cheaper marketing tactics – or even better, ones that are free.
Use social media to build your brand and push content out there. It's mostly free to do so and can yield exciting results.
Begin email marketing.
Start a blog and up your content marketing game.
There are plenty of low-cost marketing opportunities out there for you to choose from.
*
However, low consumer confidence might fall and however likely a recession may seem, it's important remember what's important.
Consider all your moves carefully. Don't make dramatic changes without understanding all the possible outcomes.
And don't stop marketing. Be more shrewd in your attempts but cutting back is only a short term victory.
Send us a message on Facebook for more information.
Alternatively, fill out a contact form below and we'll be in touch shortly.
We are sorry that this post was not useful for you!
Let us improve this post!
Tell us how we can improve this post?