Today, we supported the broadcast of the popular Santa Live Read 2022. This is an annual event hosted for Primary Schools across the UK.
It was fantastic to see our close client, Learn Live, trending on Twitter today during their broadcast on their Primary LIVE Channel under #santaliveread.
Unsurprisingly, this year was another success! We calculated that over 580,000 watched the broadcast from over 1,000 Primary schools across the UK.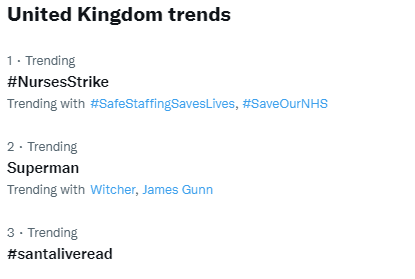 This year's Livestream had a very special guest from the North Pole and was freely available for all Primary Schools across the UK. Those watching were able to listen to Santa reading a Christmas classic. School children were also encouraged to sing and dance along, spreading lots of Christmas cheer! Furthermore, teachers were able to post messages into the Live chat to receive a shout out from Santa.
The #santaliveread was trending at No 3 during the broadcast behind the #nursesstrike and #Superman. You will be able to see lots of positive comments, pictures and videos under the hashtag posted by lots of Schools watching the Livestream.
This event was aimed at Primary School children aged 5-11 years old. Learn Live are renowned for their free live interactive broadcasts. These aim to educate School and College students on careers and health education.
Visit Learn Live's website to access the Santa Live Read recording and take the quiz. Contact us today for your business to be supported by our experts.