Branding
A common misconception is that branding can be confined to your logo and colour palette. While branding does encompass the aforementioned, that is but the tip of the iceberg.
Branding encompasses and aligns several pillars including product, buying experience, use of text, tone, imagery, social media, advertising, and how this is perceived by the wider public.
Your brand communicates what your business stands for.
So how do you curate a brand?
For us, the most important thing is understanding your customer; namely their demographics, psychographics and behaviours.
Secondly, its understanding your business, its strengths, weaknesses, and unique selling points, while also understanding how that compares to your competitors.
Thirdly is the marrying of points one and two.
Customer demographics
This can be boiled down to characteristics such as their age, cultural background, gender, education, job role, place of birth and place of residence. With this you can begin to form an idea of who your ideal customer is.
Customer psychographics
Psychographics refers to an individual's personal thoughts such as their attitudes, religious beliefs, aspirations, and their worries. Armed with this knowledge, you can curate a brand that revolves around their way of thinking and align your text, tone and imagery with their profile to evoke emotion.
Customer behaviour
This aspect of your customer profile is where you can identify your significance to your target audience. Is your product something they consume intentionally, or is it an impulse purchase? A great example of an impulse purchase is chewing gum. It's often located by the point of sale in hope it catches your attention, and your innate response is to pick a pack up and add it to your trolley. Customer behaviour is essentially identifying whether your brand is perceived as an after thought or the be all, within your audience's day to day routine.
Business strengths and unique selling point
Marrying your business strengths to your customers' needs is key to curating a message that resonates with your target audience. By ensuring your strengths are aligned with your customers needs you can begin to form your brand strategy. In the case of Stone Create we understand we're capable of producing high quality marketing solutions. Our target audience are organisations that are need of high-quality marketing solutions, so Stone Creates brand strategy is to offer high quality marketing solutions.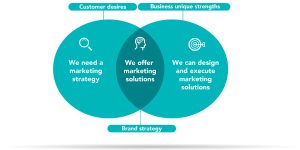 To summarise, your brand is the culmination of everything you do. Your brand is what and how the public perceives you, so no matter how small or insignificant it may seem to you. Your choice of language, text, tone, social presence, buying experience and product all contribute to your brand.