Instagram Checkout – Changing the world of eCommerce
What is Instagram Checkout?
The latest turn in a constantly evolving social media world is Instagram's new feature – Checkout.
It's a social commerce element that in time will make the process of purchasing online much easier for the consumer.
Ordinarily, if a fashion outlet uploaded a photo of a product you liked and wanted to buy, you have to click a link to a landing page in the browser to get to where you can then buy the product.
Instagram are looking to change this and make it simpler for consumers.
The new feature allows businesses to post images of products and include a checkout button on the post.
This means you can now purchase without leaving the Instagram app.
Don't worry about links taking you away from the app – there aren't any.
You'll only have to enter your billing and shipping details during your first purchase as the app will save the details for future transactions.
You'll receive notifications about shipping and delivery from within the app too.
The feature is currently in closed beta and only a certain number of high-profile names have access to it; Nike, Adidas, Burberry etc. and it will cost the sellers to use it.
Instagram hasn't said when the feature will become available to the rest of the world, but in time this feature may be available to everyone who wishes to use it.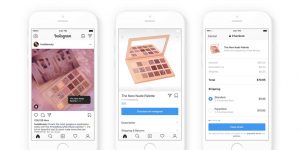 The Positives
Simpler user journey
Instagram user's only need to click the checkout option on the post and confirm the purchase and delivery etc. and the order will be made.
Consumers will not have to cross over to a browser and can continue their Instagram session that has merely been placed on a short pause.
Faster checkout speed
Users love simplicity and the faster the buying process the better.
Flying through checkout in 30 seconds is much better than five minutes.
By removing the monotonous task of inputting card details and addresses, Instagram are saving us a lot of time.
They're trying to suffocate the length of time it takes us to complete the process – killing time but breathing new life into the way we purchase.
The Downsides
Consumers may miss the wider product range
When we see an advert for a product and click through to a landing page, we're often met with an avalanche of other products that might take our fancy.
We may even choose to buy one of these new products instead of the original eye-catcher.
Instagram checkout reduces the amount of products we'll be exposed to; meaning we could miss out on items we'd rather have.
Expect more ads on the platform
If brands choose to use the checkout feature, they're going to use it often.
Not many of us want to see ad after ad when scrolling through Instagram, but by introducing this new feature, it's likely you'll be subjected to many more.
*
Are you okay with seeing more ads in exchange for an easier purchasing process?
Are you willing to sacrifice buying a product you'd rather have to save time overall?
It's too early to say what effect Instagram's checkout feature will have on eCommerce but there are pros and cons for both brands and Instagram users.
For help with your social media or any other marketing enquiries fill out a contact form below.
We are sorry that this post was not useful for you!
Let us improve this post!
Tell us how we can improve this post?