Secret LinkedIn Features For B2B Marketers
Are you going to make the most of LinkedIn in 2020?
LinkedIn is for B2B marketers. It's used by hundreds of millions of people and is a useful tool to leverage, if done correctly.
LinkedIn has lots of great qualities. Features that are the fuel for its growing popularity – but not all of them are so obvious.
Disclaimer: None of the features in this article are really secret. Sorry.
They're all readily available to any LinkedIn user. But not every LinkedIn user knows about or uses them.
They aren't as obvious as the classic social media features but are just as important nonetheless.
And if the features exist, you might as well tap into them. Use the resources available to you.
---
Contents
---
Trending Topics
Do you release a lot of content on LinkedIn?
Are you looking to start posting more?
If you really want to make the most of LinkedIn, you need to be interacting with your network.
Whether it be comments or likes, or you're posting your own views, it's way better to be active than dormant.
People will forget you if you're quiet. But by being active, you remain top of mind.
What is it?
If you are struggling to know what to post about, trending topics will help you out.
It's a collection of popular subjects that are fashionable at that time.
It displays the topics that are hot right now. The ones everybody is talking about.
Your job is to contribute. Offer your two cent's worth. Get involved.
If you're ever struggling for content, this is a great place to look.
Where is it?
Navigate to your home page and avert your eyes to the top right corner of the page.
You should see a small box. It's called either 'Trending Topics' or 'Today's new and views'.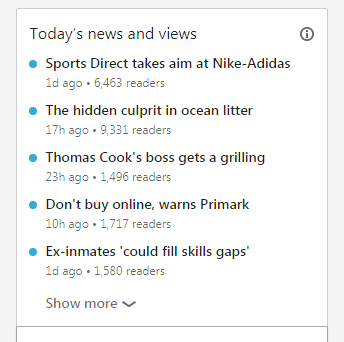 Here you can find the most talked-about topics from the last few days.
If you know something about any of the topics, or simply want to voice an opinion, get to writing.
It's a positive step to growing your network.
---
RELATED: How To Claim A LinkedIn Company Page
---
LinkedIn Analytics
Data is the new buzzword among the internet world.
You're nothing if you're not collecting data.
And you should be collecting it on everything you do.
If you're not tracking, how are you going to know what's working and what's not?
Features of LinkedIn analytics
LinkedIn splits its analytics data into three parent categories.
Visitors
Use these metrics to explore who is clicking through to your page.
See trends of visitor frequency and how many unique visitors your page attracted, over custom periods of time.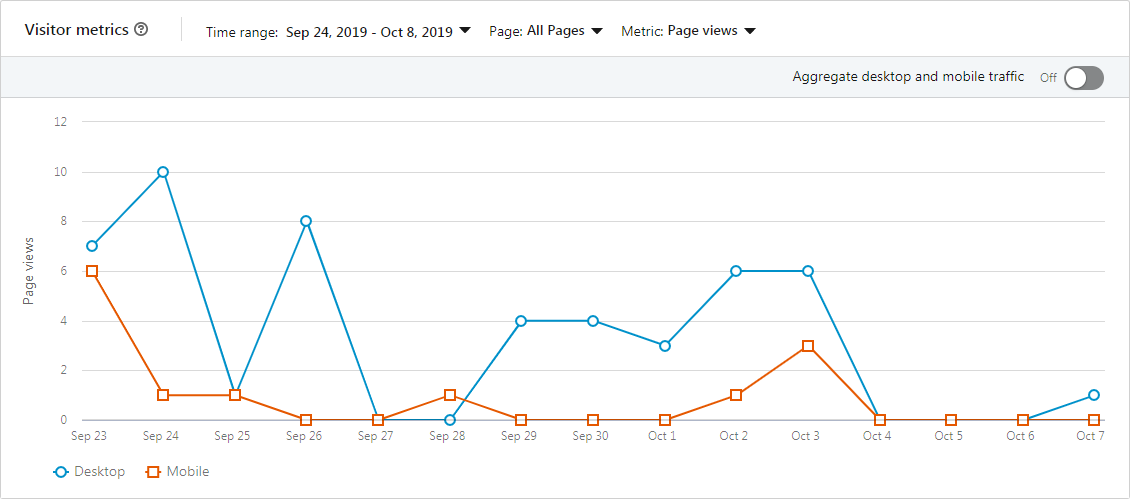 LinkedIn also provide data on your visitor demographics.

Analytics show you information about visitor's:
Job function
Industry
Location
Seniority
Company size
Using these filters will give you a better idea of who you're reaching and whether you're targeting the right areas.
---
Updates
This section provides data about the content you've shared to LinkedIn.
Using LinkedIn for B2B marketing means you'll aim to be sharing valuable information to your network.
Updates analytics begin with a graph showing all you aggregated data from all your content.
Scroll down for a table that breaks it down into individual posts and activity.
The metrics shown here are:
Impressions
Unique impressions
Clicks
Reactions
Comments
Shares
Engagement rate
Use this section hone in on what content is more successful.
From here you can shape your content plan to produce more of the material your followers are interacting with.
Use this link to download a free content calendar template to get started.
---
Followers
How successful are you at gaining followers?
Are you noticing any trends?
Does your graph show a positive trend?
This section will help you understand your popularity and its momentum.
The graph will show you how many followers you gained/lost in a set time.
Follower demographics are also provided and show you the same demographics as in the visitor analytics:
Job function
Industry
Location
Seniority
Company size
Scroll past follower demographics and you'll see a new section called Companies to Track.
Here you can see similar companies in your niche and how some of their stats compare to yours.
See metrics for:
Total followers
New followers
Number of updates
Engagement rate
Competitor analysis is vital and if you notice a competitor is performing well, click through and check what they're doing differently.
Is it something you can also do?
Can you do it better than them?
---
YOU MIGHT LIKE: Content Marketing: The Comprehensive Guide
---
LinkedIn Groups
LinkedIn groups are great for expanding your reach and interacting with others in your industry.
They're great for sharing content with those in your niche and increasing your engagement.
They can connect you with customers and like-minded professionals.
Use the search bar at top of the page to find them – the groups filter is on the far right. Search for popular terms in your niche to find relevant groups.
Yes, compared to Facebook groups they're limited, but they still have similar qualities and are worth exploring.
To make the most out of LinkedIn groups join as many as you can and take time to  interact with them. Be an active member where you can.
If you want to go a step further, consider starting your own group. It's great if you want to be recognised as a thought leader.
We've got our own Facebook group, sharing valuable marketing and business information – you can join it here.
Make sure the group's topic is industry related. Begin growing it and promoting it on the various social channels. You'll have control over it so can choose the path you go down with it.
Gathering people and starting your own community is a great way to engage people.
---
RELATED: Check Out Instagram's Exciting New Feature
---
How To Change A LinkedIn URL
Both your personal page and company page need to have easy-to-read URLs.
Changing your LinkedIn URL improves the aesthetic of your page.
It looks professional. And makes your page look well-presented.
How to change a company page URL
There a a few steps you need to go through to change your company page's URL:
Go to your page (make sure you're logged in as an admin)
Select the Admins tools dropdown
Click the Public URL option
You should be able to change the URL here
How to change your personal page URL
Changing your company page's URL is as important as changing your company page URL.
There are five steps to this:
Click on the Me dropdown in the top left corner of the page
Go to Settings & Privacy
Go to Edit your public profile
In the top right corner look for Edit your custom URL
Click on the pen and you'll be able to change the final part of the URL
---
Have you joined our marketing and business Facebook group? Valuable articles shared weekly!
---
LinkedIn Slideshare
Have you explored Slideshare before? It's great if you're using your LinkedIn account for B2B marketing.
LinkedIn absorbed the platform a few years back and have since grown the platform to millions more users.
It's used to share presentations and documents about popular topics.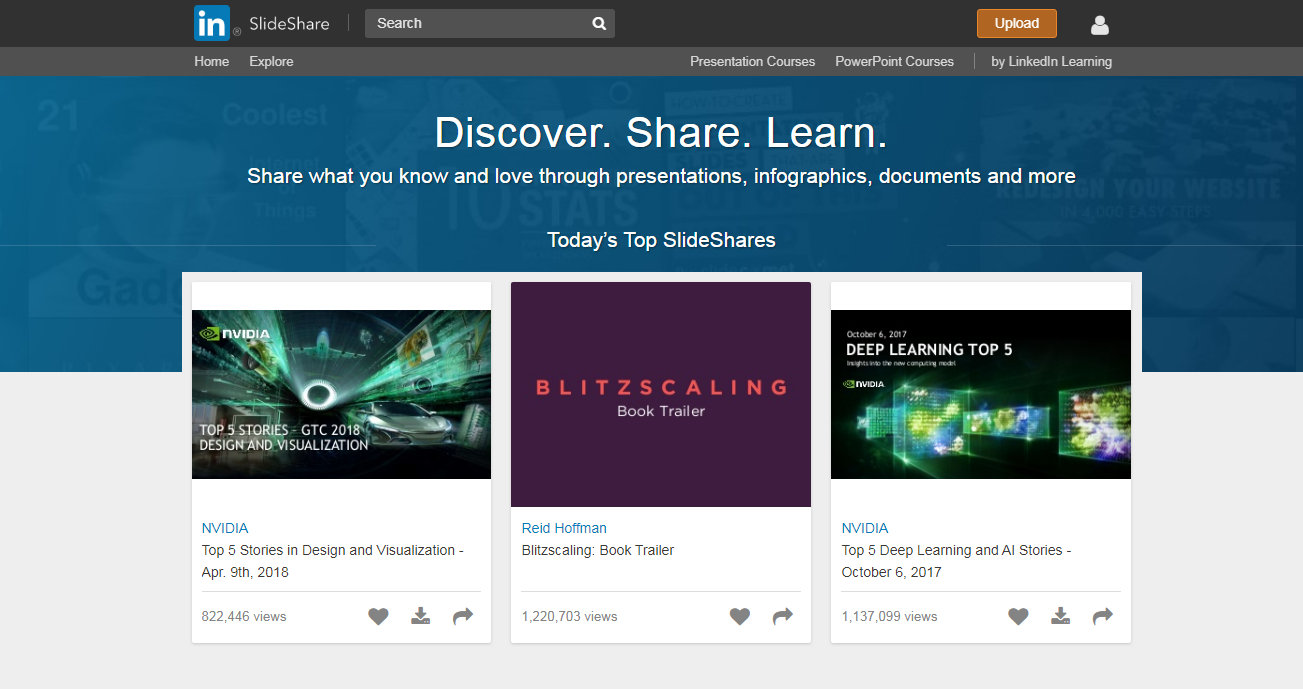 There's an opportunity to connect with others in your niche and provide them with useful content.
You can upload presentations, videos and infographics – all brilliant visual content.
It's free and easy to use, and includes its own analytics too.
LinkedIn is for professionals, and that extends to SlideShare also – so get uploading ASAP.
---
RELATED: How To Claim a Google My Business Listing
---
LinkedIn Content Suggestions
This is another place you can go if you're struggling for a topic to produce content about.
Trending topics is useful but shows trends for the whole of LinkedIn rather than specific to any particular niche.
The good thing about content suggestions is that it allows you to filter by industry.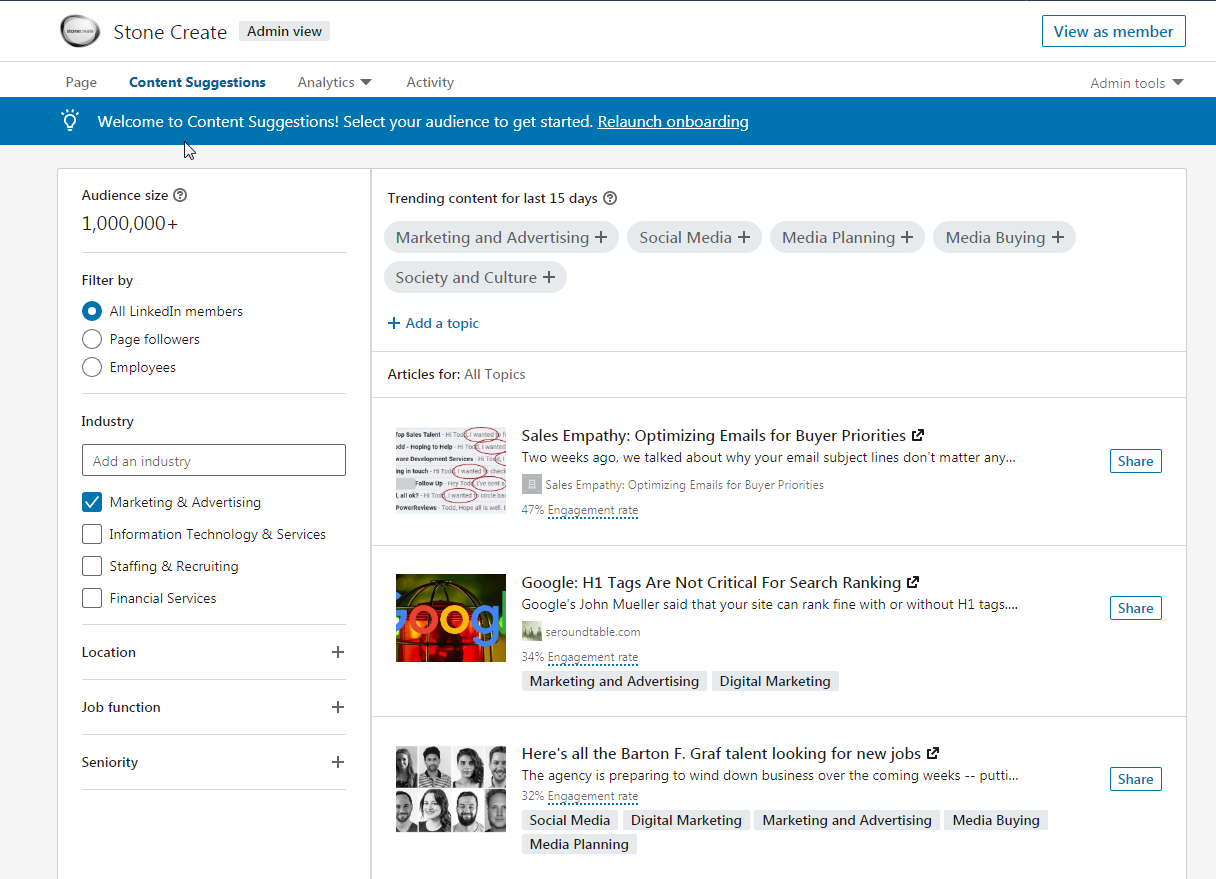 You can find the articles in your realm that others are writing.
From here, either build on them or offer something new, or simply interact by leaving a like/comment on the posts.
---
YOU MIGHT LIKE: Use Prospect Theory To Increase Your Sales
---
Increase your page's following (future feature)
For a short while it was possible to invite your personal connections to like/follow your company page.
It was a test feature that was released in May of this year.
LinkedIn subtly added the feature before even more swiftly removing it just a few weeks later.
It helped us increase our LinkedIn following by 80% in just two weeks.
This is what it looked like and there were two places you could find it.
We managed to use the tool to our advantage in that short window but not everyone was aware of it.
Our blog contains a separate article on this if you want a more detailed overview of what the feature does.
We spoke to LinkedIn and they said that not all members were satisfied with the experience when using it.
They also said that they are looking to reintroduce the feature when improvements to it had been made. Hopefully that comes around soon.
It was a very useful feature for anyone with a company page.
We all want to grow our pages and this was one way to do it.
---
For B2B marketers, LinkedIn is the place to be.
Learn to master the platform by using all these features.
Grow your network, become a thought leader, and improve yourself and your business as a result.
For more social media help, fill out a contact form below and we'll be in touch shortly.
Alternatively, send us a message on Facebook.
---
We are sorry that this post was not useful for you!
Let us improve this post!
Tell us how we can improve this post?